Hi All
After recently re-building my split rim Compomotives I thought you would be interested in the journey. I originally posted this thread on The Lotus Forums as the wheels are for my 1986 Lotus Esprit, but I thought you'd find it informative too. It was a great side project and has given my split rims a new lease of life. Most wheel restorers stay clear of split rims due to the labour involved. I found the process relatively simple which gave a huge sense of accomplishment once complete, here we go!
Disclaimer: This personal perspective in the refurbishment of my Compomotive split rim wheels. Visitors who use this information do so at their own risk.
Tools required
10mm spanner
5mm allen key
Parallel punch
Torque wrench (that can torque to 26 ft lbs)
1 tube of mastic sealer and applicator gun
Spray and polishing equipment dependent on level of commitment
Vernier gauge
6mm allen bolts. 12.9 grade steel. 40mm length. Quantity, 80
6mm flange nuts, Quantity, 80
Aluminium 'hat' washer, black anodised. Quantity, 80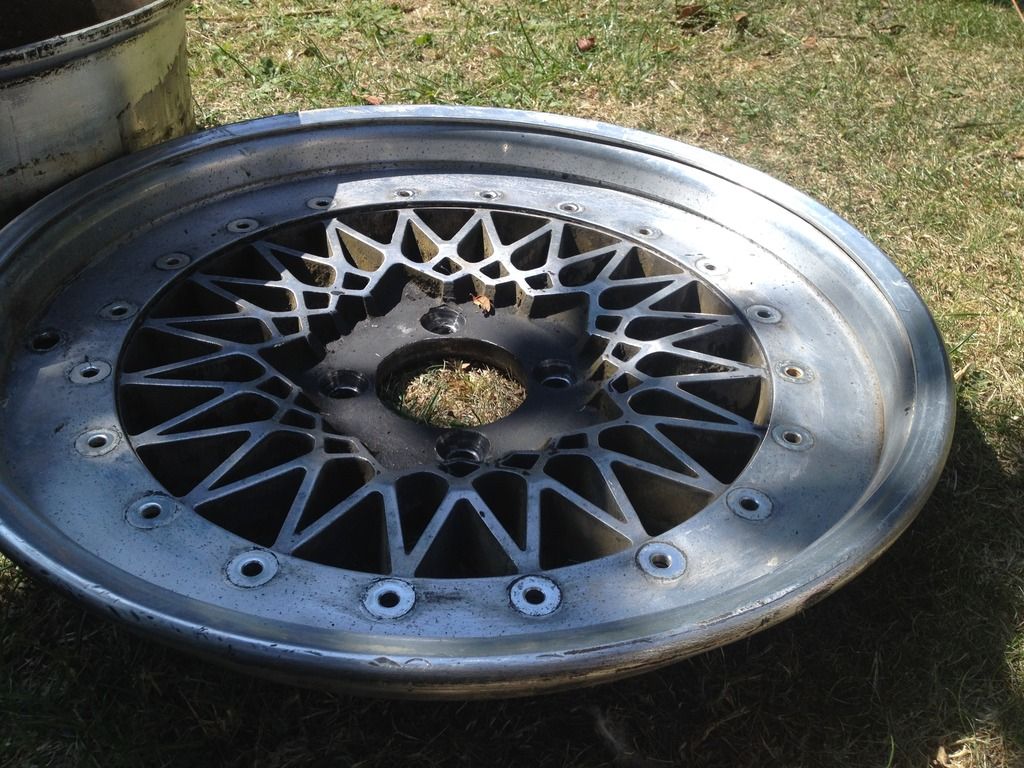 As you can see my wheels were looking quite sorry for themselves and were leaking air. Once the tyres are removed you'll have a better idea of how they are built up. These 3 piece rims consist of a rear barrel (inward facing of wheel closest to the suspension/brake components), centre piece and front rim (outward facing). It's a good time to inspect the wheels as they stand. Check for cracks and dents in the rims and spin them on the front axle of your car to see if they run true. It will give you a chance to evaluate if they are suitable for rebuilding. I'm unsure of where to find replacement barrels or rims. Luckily mine were all serviceable.
Before separating you have to unbolt 20 nuts and bolts per wheel. I preferred to loosen off the nut on the back side in case your spanner slips. To reduce pressure off the rims evenly I undid the fixings at opposites. Imagine looking down at the back of the rim, using the numbers on a clock I would undo 12 'o' clock, then 6 'o' clock, 3 'o' clock, 9 '0' clock etc and work my way round until they are all removed. I would also advise not to throw anything away. Keep all parts even if broken just in case you require them for reference at a later time.
When the nuts are off, gently unscrew the bolts and their aluminium washers out from the front rim. You may need to tap them through from behind using a parallel punch or an old bolt.
Before separating, consider adding some centre punch marks on the inside of the rims and wheel centre to reference the position of each part relative to each other. I didn't bother as I felt the parts would not have been manufactured to such high tolerances originally.
Originally the wheels had rubber O rings for a (not so!) air tight seal. It allows for an easier disassembly but I still had to use a hand trowel, lightly tapped between the barrels and wheel centre to break them apart. An old kitchen knife is another useful tool for separating the edges. Using a screwdriver is too localised and blunt, possibly leading to damage if you tried to drive it into the groove too hard. If the wheel has been rebuilt before it might have mastic sealant around the inside that will need picking off/dissolving before separating.
Once apart you have several options on refurbishment depending on time, skill and funds available.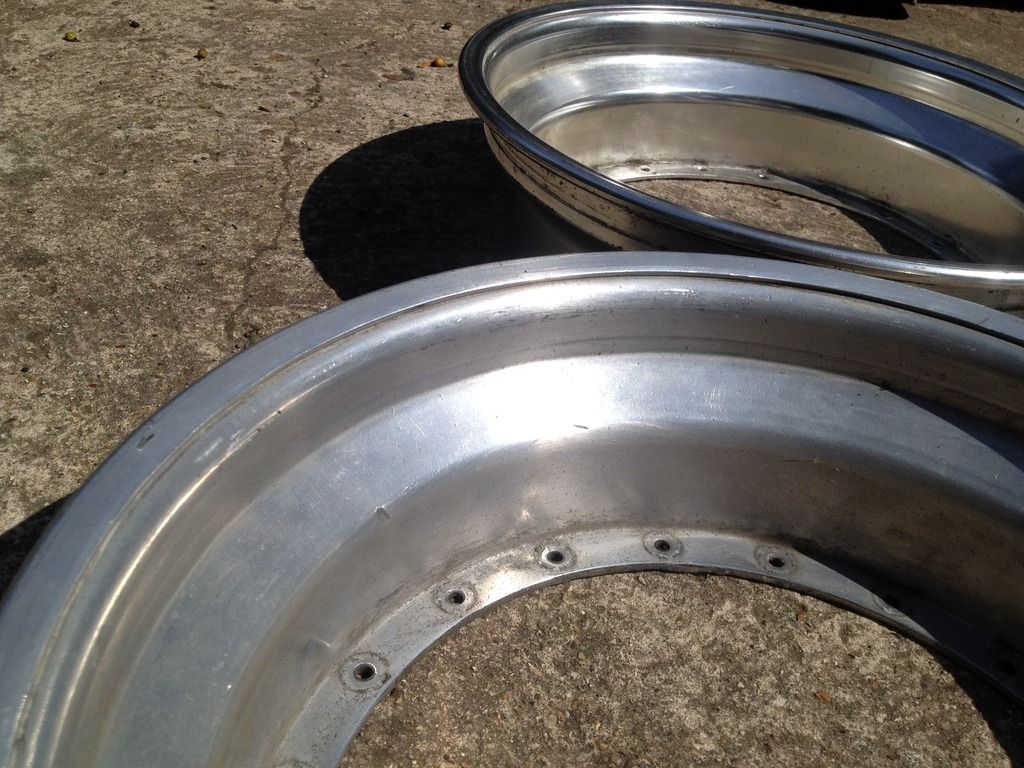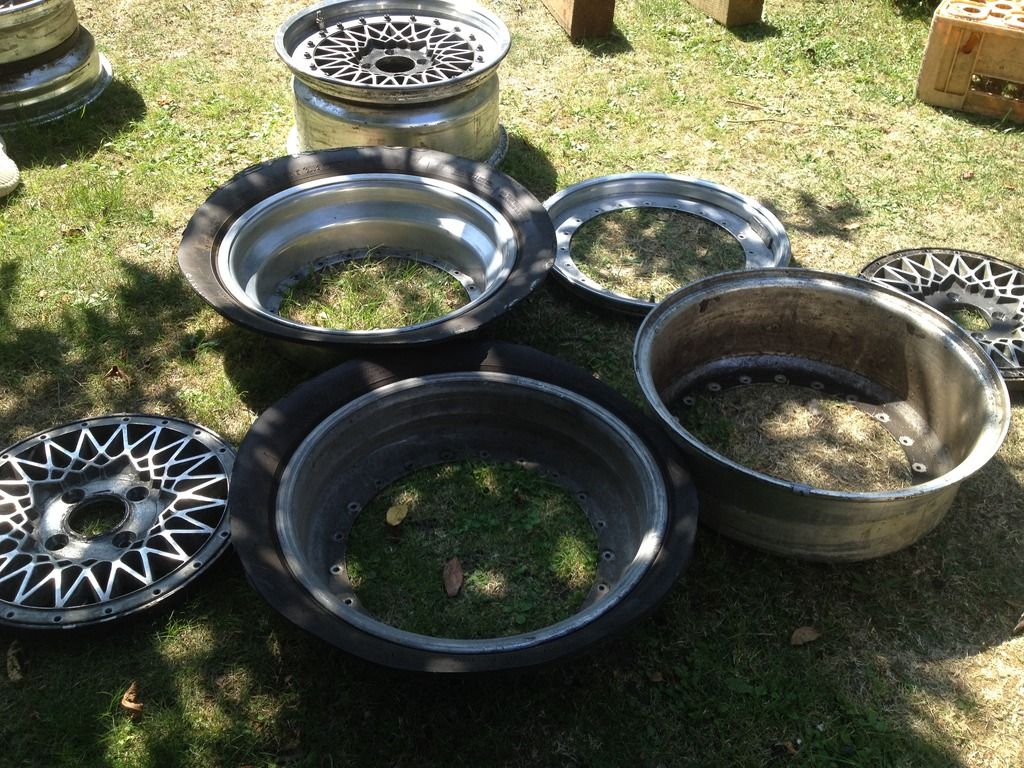 Previous Compomotive wheel threads mention the rims were originally anodised. My understanding is the process can only be performed on 'new' metal with an even surface finish. Due to tarnishing over time mine were not suitable for re-anodising. I like most owners chose to polish up the rim instead. You might feel confident enough to paint/polish the components yourself. I chose to outsource the wheel polishing and painting to local firms. I cleaned up the rear barrels myself but resisted painting them for reasons that will become apparent...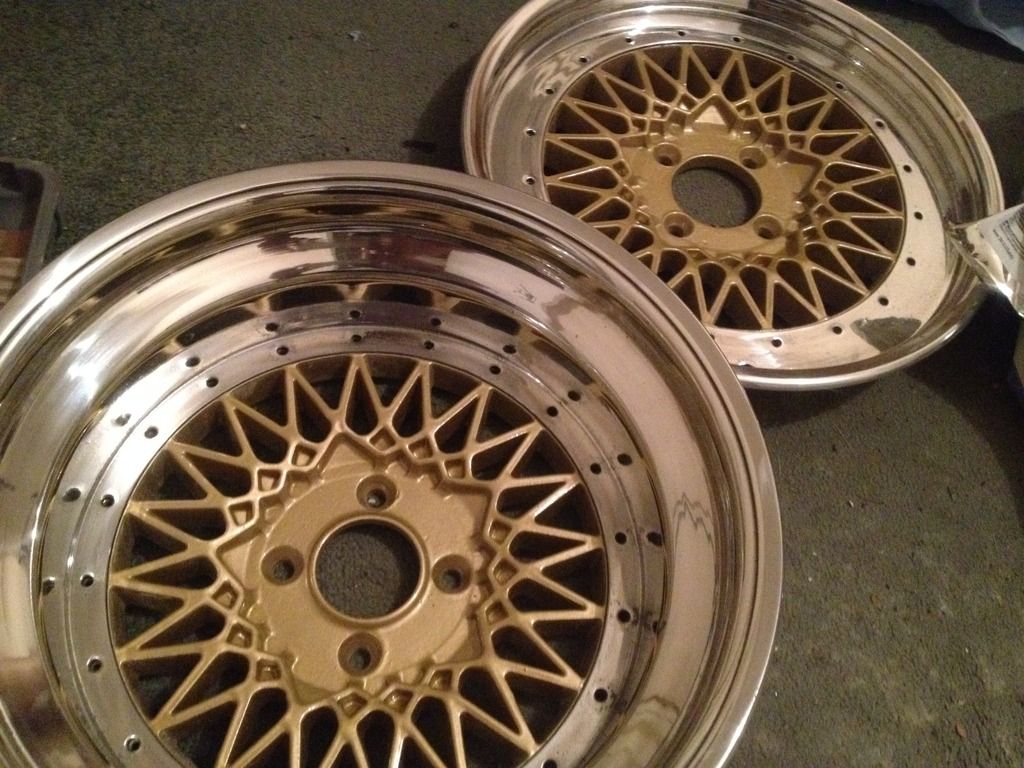 Several weeks later I received my powder coated centres and polished rims. Upon trial fitting them I noticed the barrels didn't sit in the original recess. On closer inspection I noticed the tight tolerance between the centre and the rim. Powder coating is quite thick and made installation of the rims impossible. The mating faces between the wheel centre and barrel must be flush to ensure a wheel that runs true.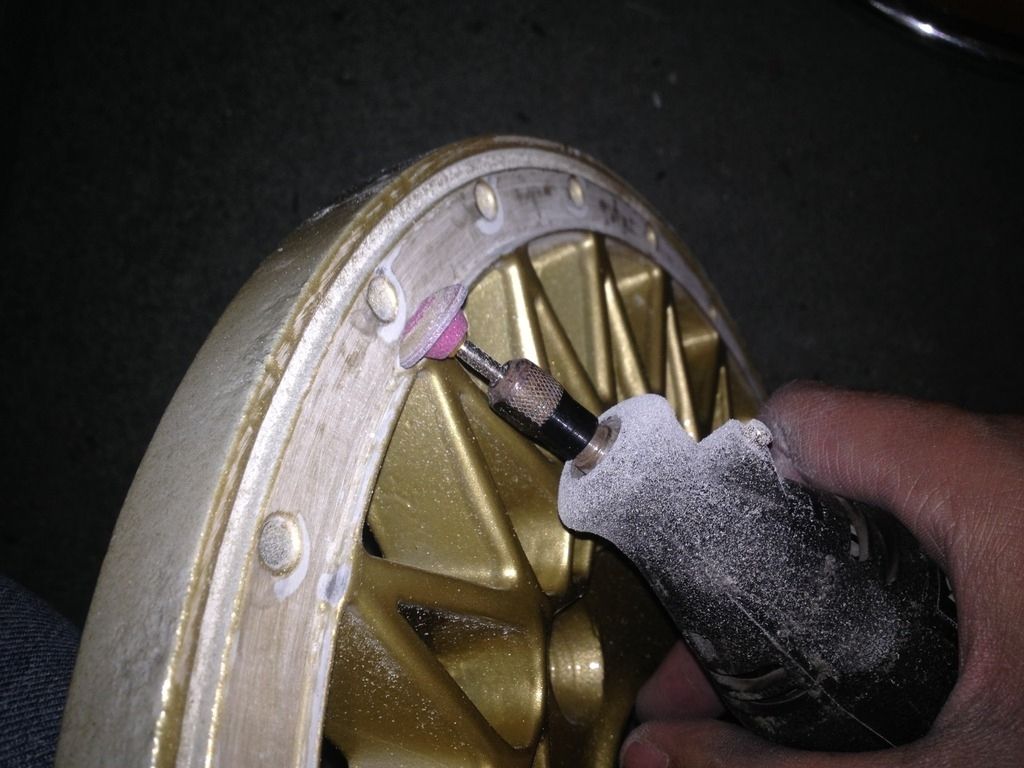 To rectify the problem I used a sanding block with 300 grit paper to sand back the powder coating and level off the mating face back to metal so the rims would sit comfortably against the wheel centre. A Dremel was employed to sand paint off the wheel centre edge, returning a gap tolerance to the rim. I measured it with a Vernier gauge to ensure even thickness all round. At this point it's advisable to thread some new bolts through and have a dry run assembling the wheel to check everything lines up correctly. Once satisfied with the fitment of each wheel I masked off the centres and lacquered the exposed metal is give some corrosion protection.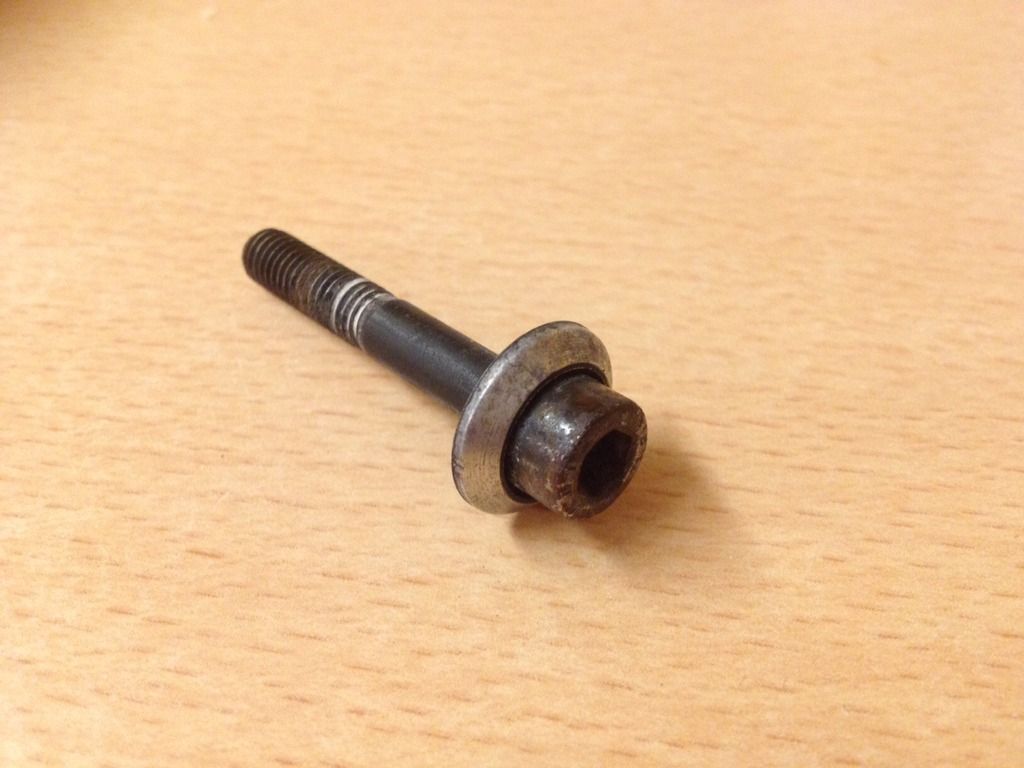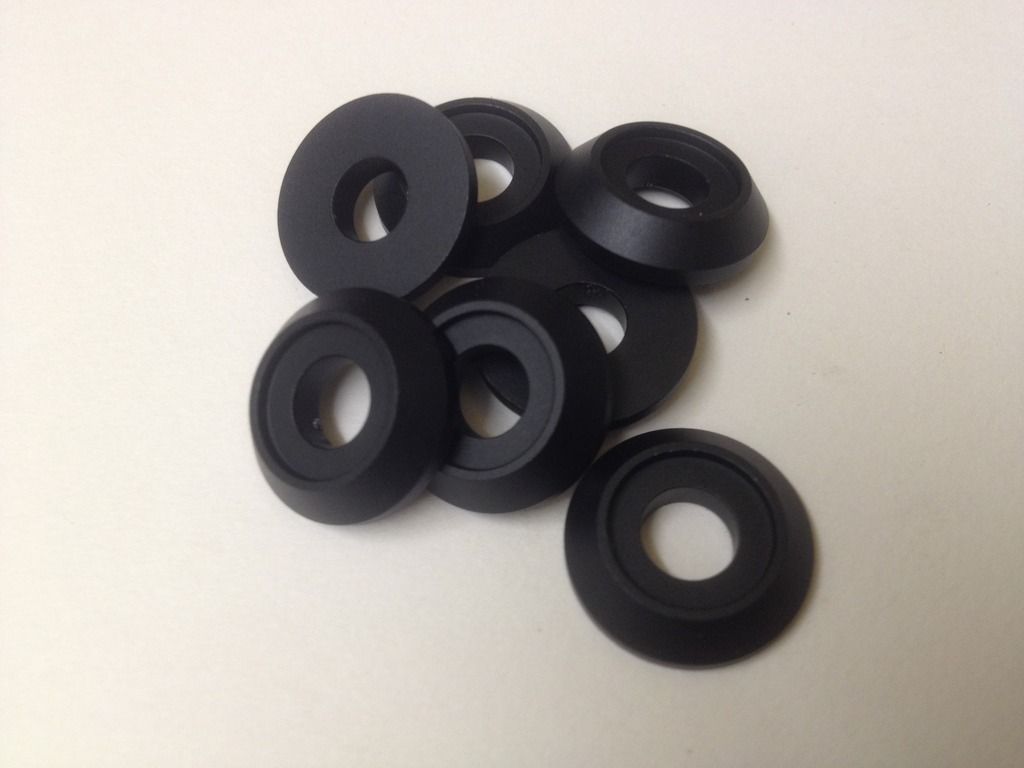 When my wheels were split the only signs of fatigue I found was on the aluminium 'hat' spreader washer. Several of these washers had fine cracks through them and the original black anodising had worn down. I tried sourcing a replacement set from Compomotive but they said they no longer stocked them. Undeterred I drew up my own ones and have made a batch myself! I work in the automotive industry as a digital modeller so I managed to get a limited run built. Let me know if you require a set for your rims.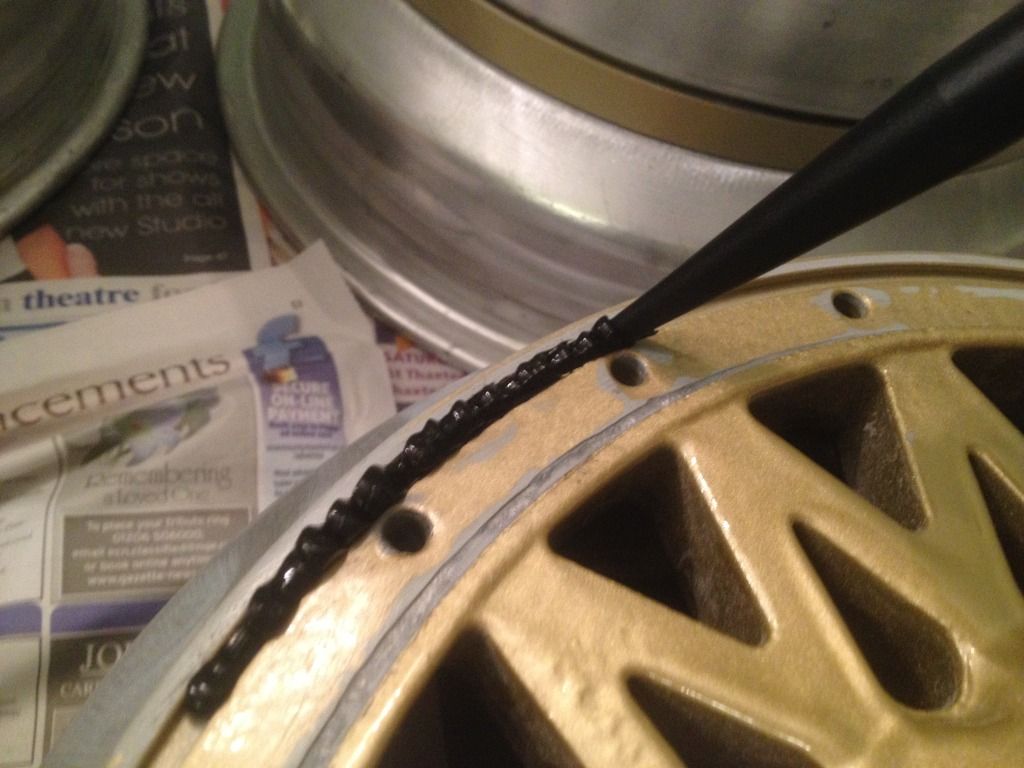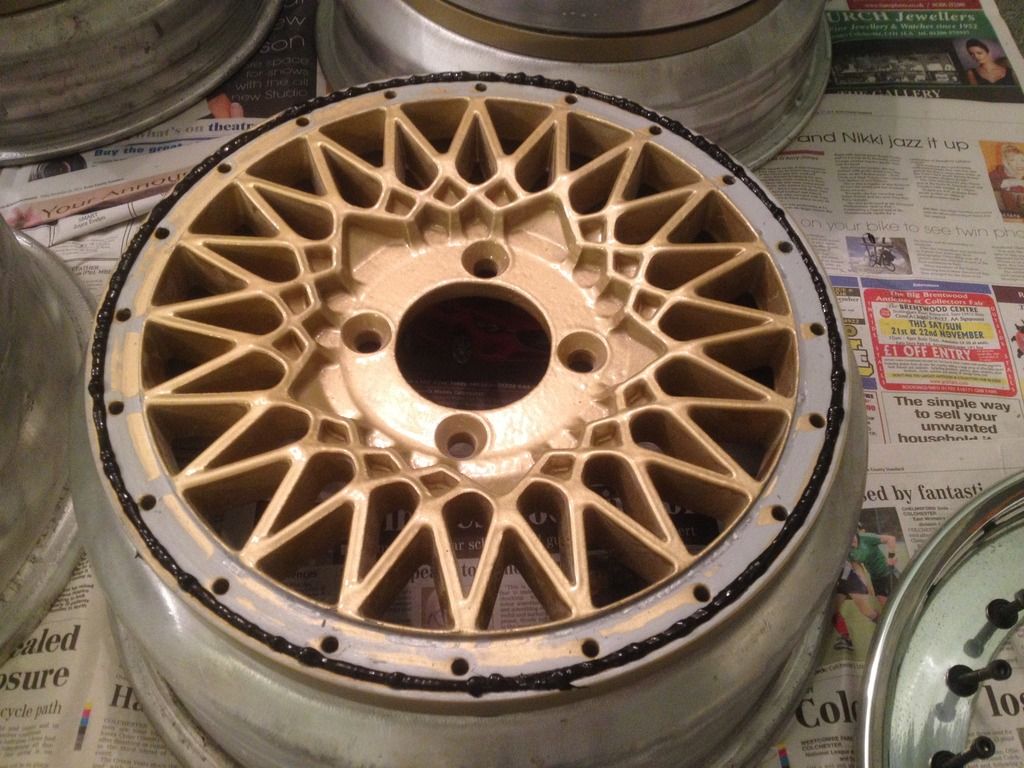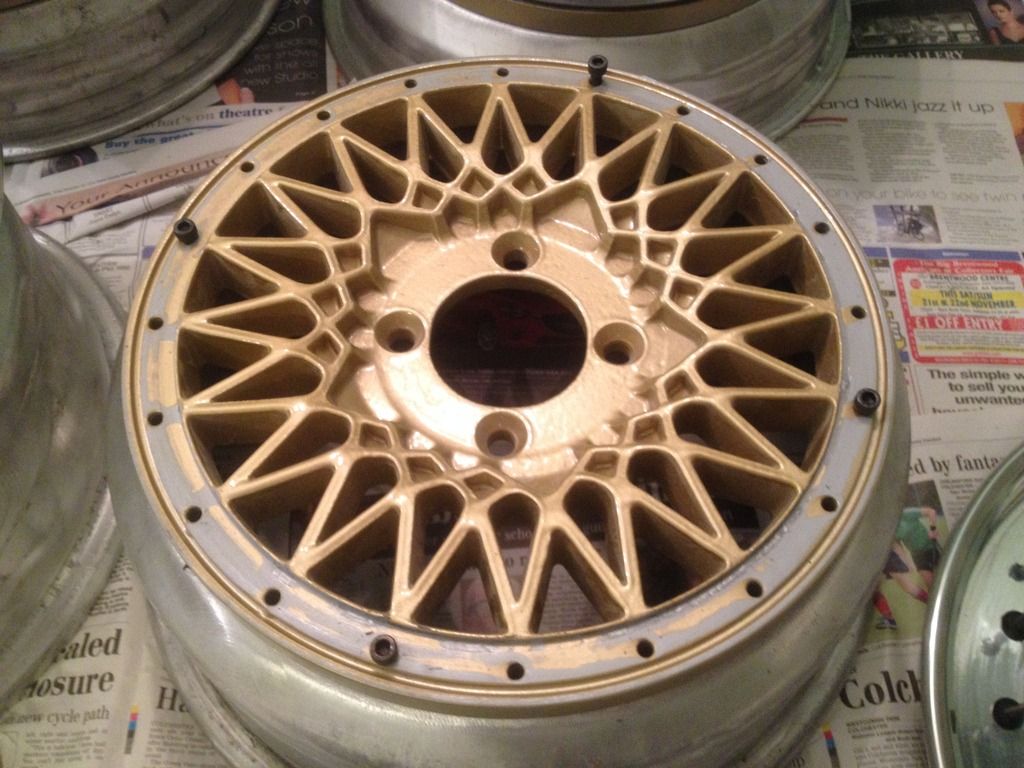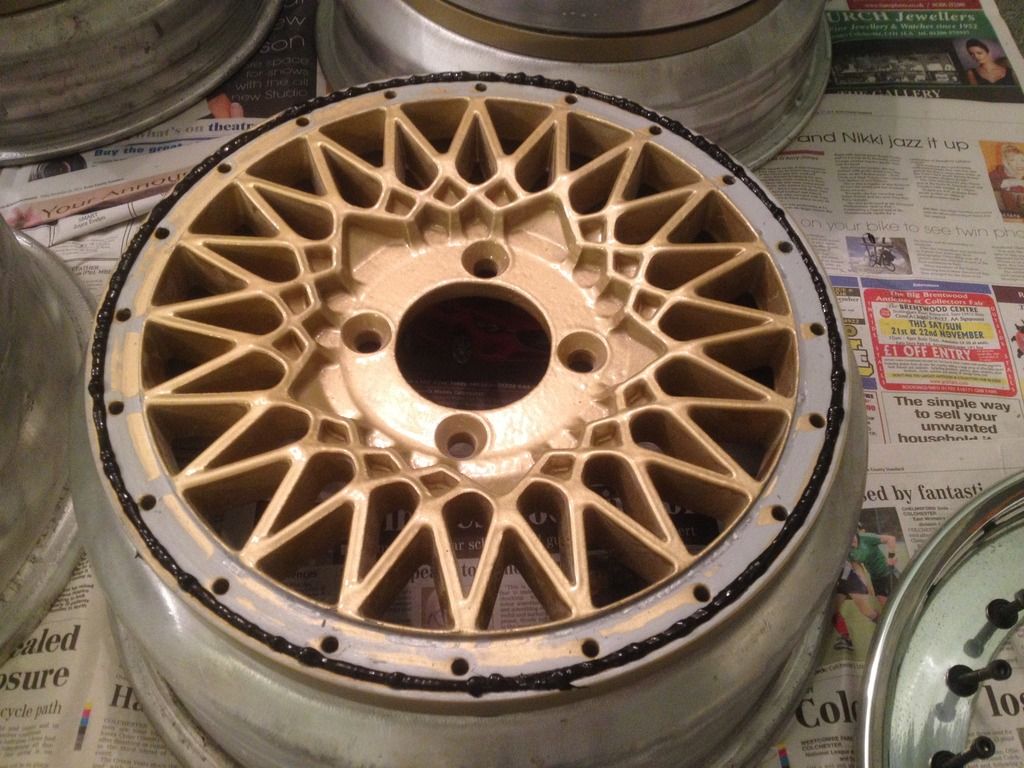 Once you've had a dry run checking everything fits together you're ready for reassembly. I attempted 1 wheel at a time, you'll be tightening 80 nuts and bolts in total, take your time! As mentioned before, Comopomotive originally sealed the wheels with a rubber gasket to varying levels of success. I am not aware of anyone offering these seals nowadays so as an alternative I used black mastic bought from a local hardware store. I filled the back groove with the sealant using an applicator gun, carefully laying a continuous bead. This face was then laid onto the rear barrel with 4 bolts inserted to ensure correct alignment.
Attention to detail is essential at this stage. If you look closely you can see parts of the groove that didn't have sufficient mastic to seal against the rim. I subsequently found out this wheel leaked when the tyre was fitted.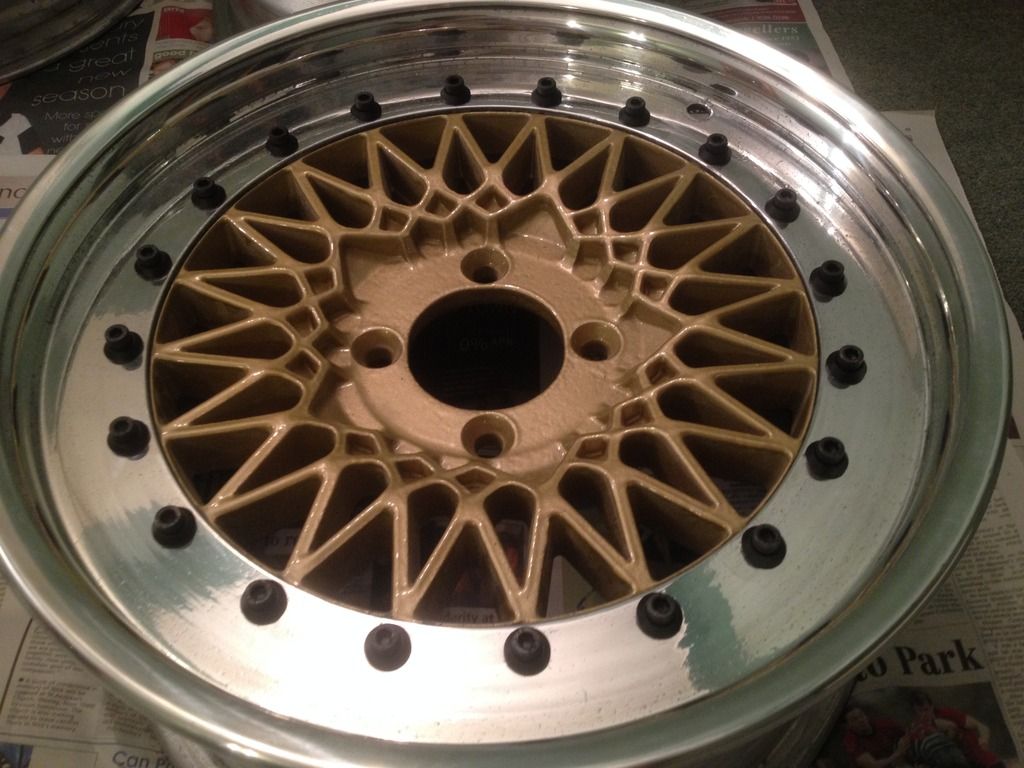 The front face was then given a bead of sealant and the front rim was attached. New bolts and washers were threaded through the wheel in preparation to torque everything down. I used 12.9 grade steel allen bolts that have a high tensile strength (size M6 x 40mm Socket Cap Head screw). This part of assembly was carried out in quick succession to ensure the mastic was still 'wet' to give an air tight seal.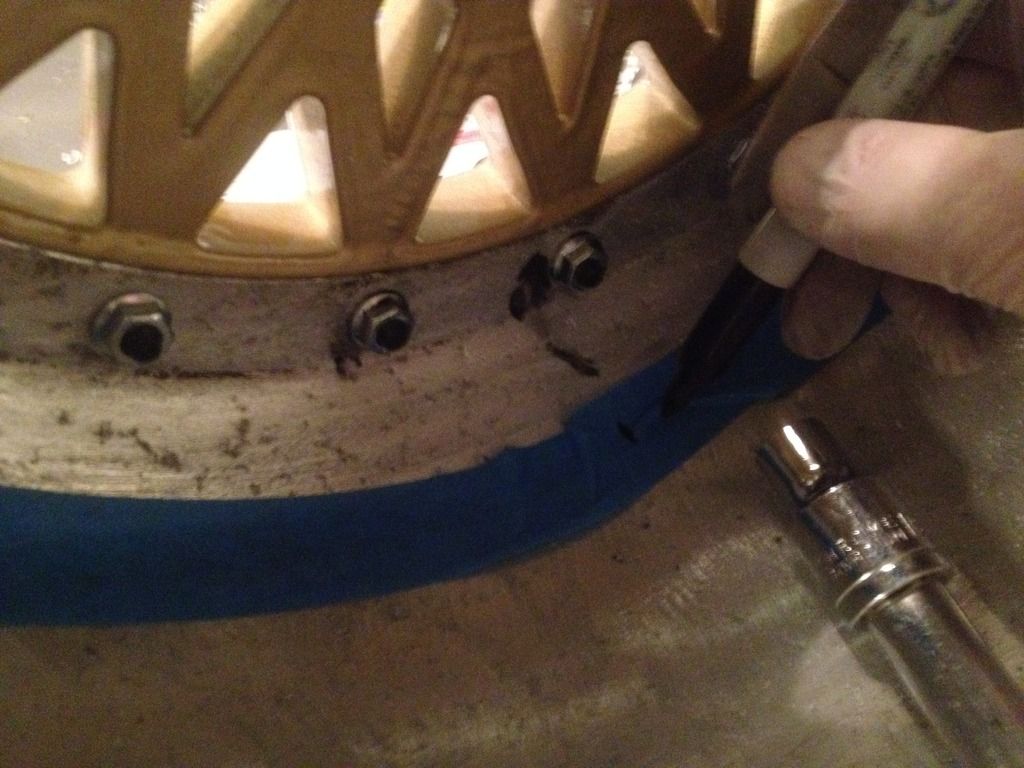 On the back of the wheel I chose to apply a 6mm nut that had its own flanged base. You may prefer to use regular nuts with a washer. Each nut should be secured with thread lock. Each thread received a nut tightened by hand.
I have looked online to find the correct torque settings for these rims. This link recommends a torque setting between 26-28 ft lbs:
I used a similar assembly technique as mentioned earlier, torqueing opposite the rim each time to spread the load evenly. I took them all to 10ft lbs first, then 20 ft lbs and finally 26 ft lbs. To ensure all wheels were torqued correctly I laid masking tape on the inside rim and ticked them off as I went along!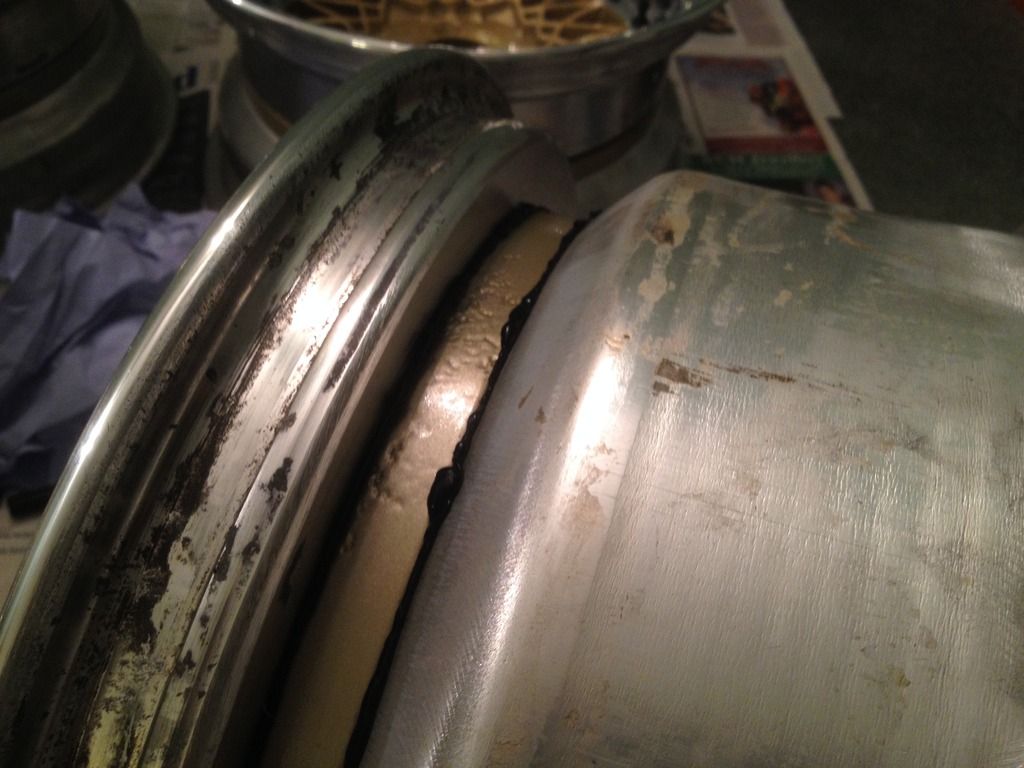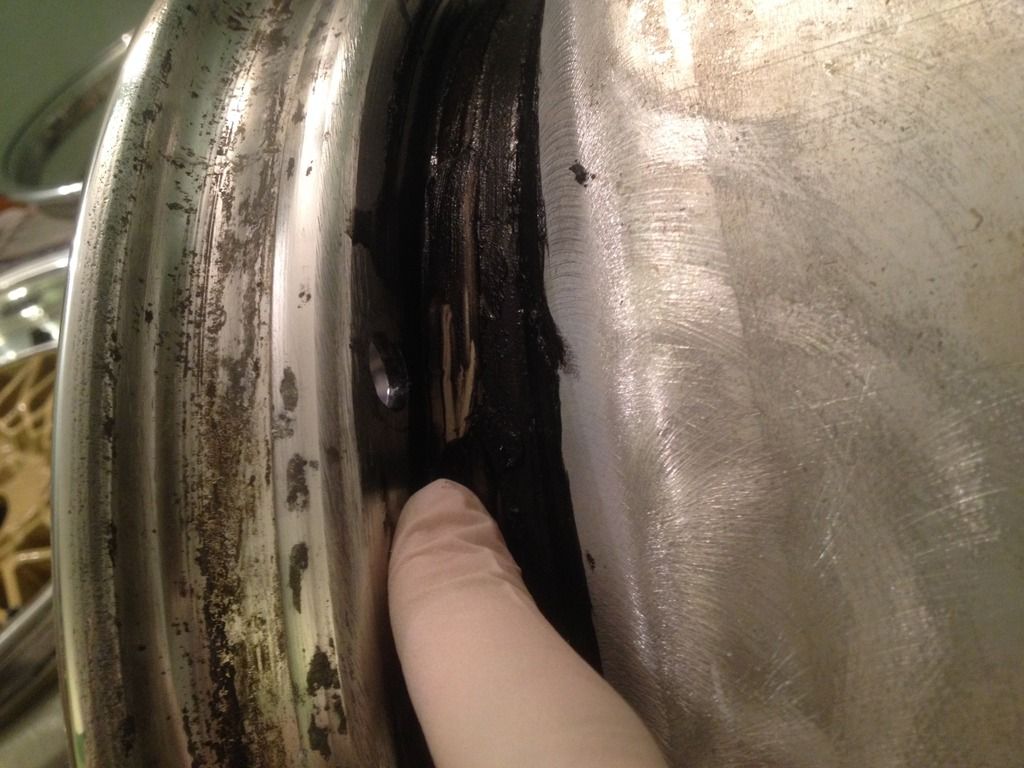 During the powder coating process the wheel refurbishers noted the centres were quite porous (the paint bubbled up as they heated the wheel to bake the powder coating). To help 'seal' the wheel I spread the mastic that had squeezed out to cover the centre section. I left the wheels for 3 days before having the tyres fitted to give the mastic time to cure.
Upon having the tyres fitted I monitored their pressures for the following week. Unfortunately one wheel leaked air, confirmed by me mixing up a washing liquid/water solution and spraying over the wheel. The bubbling around a few rim bolts showed the culprit, a result of not applying enough mastic. That wheel had to have the tyre removed, wheel stripped and reassembled again, 3 out of 4 wheels isn't bad!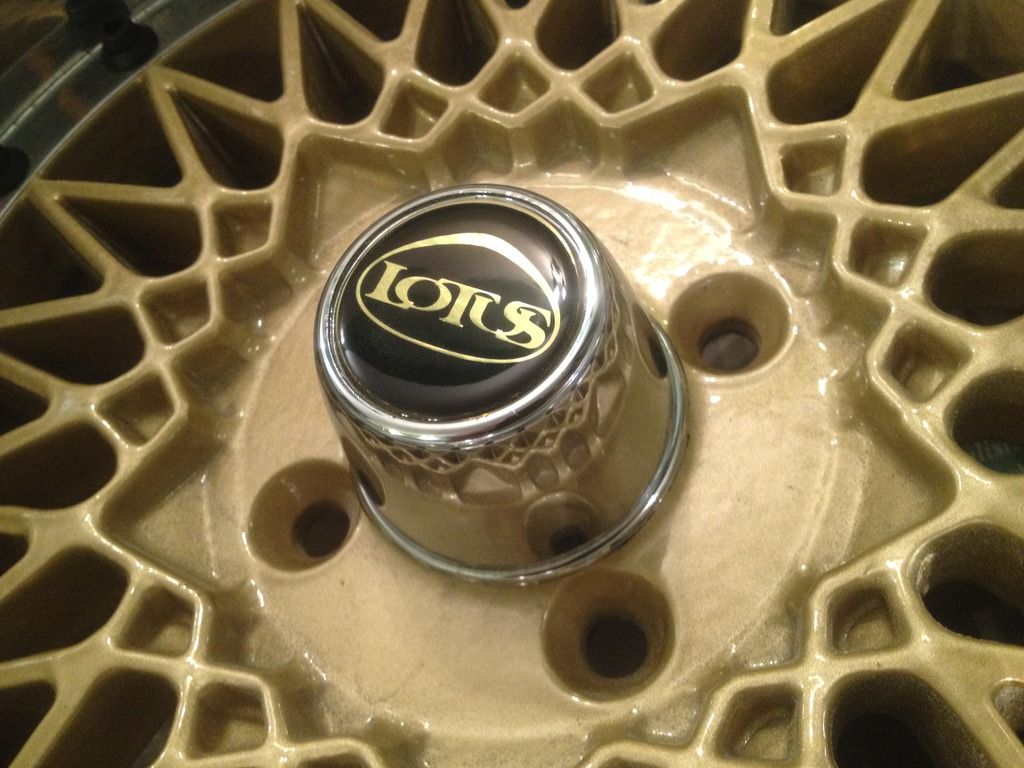 To help finish off the wheels I used flush valves and re-created the old Lotus logo for new wheel centres. Let me know if you need the Illustrator file.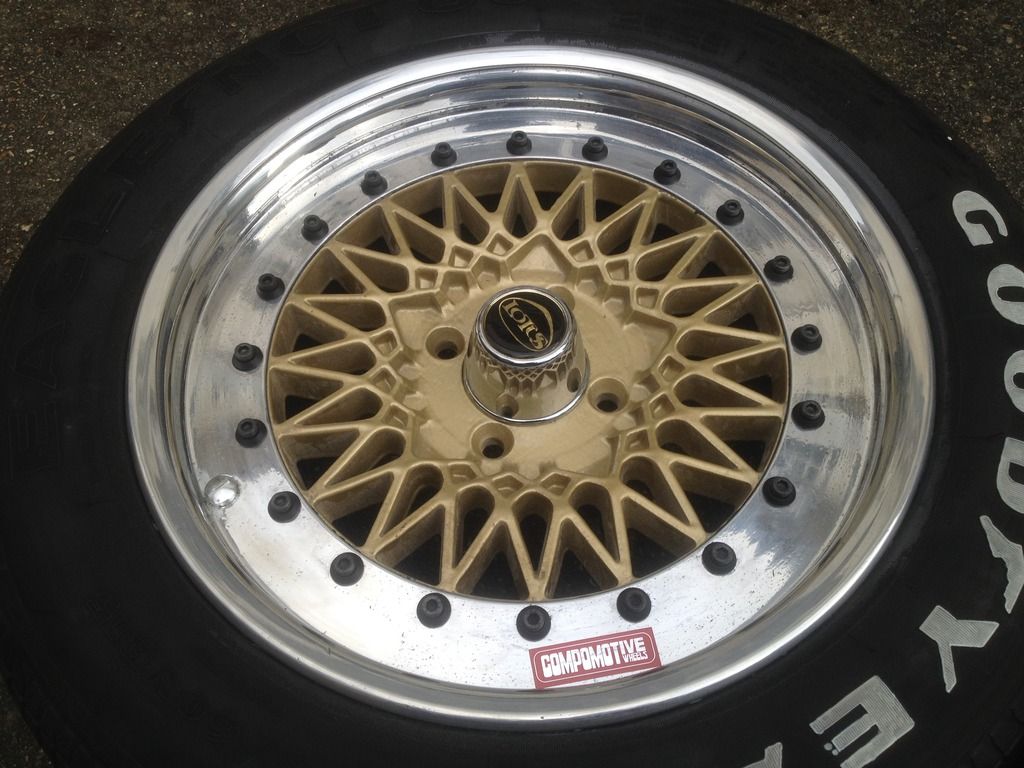 My OCD also coerced me to reproduce the original Compomotive wheels logo that appeared on the original rims. I managed to re-create them on Adobe Illustrator and have them foil printed just like the originals. PM me if you would like to purchase a set. Looking back to marketing pix of the original 'Essex' Esprits and my spare set of Compomotives, it seems the manufacturer placed them randomly on the rim in relation to the valve stem.
To top off the rebuild I painted the Goodyear script on the sidewall with a white tyre pen, de rigueur if you have a set of NCT's!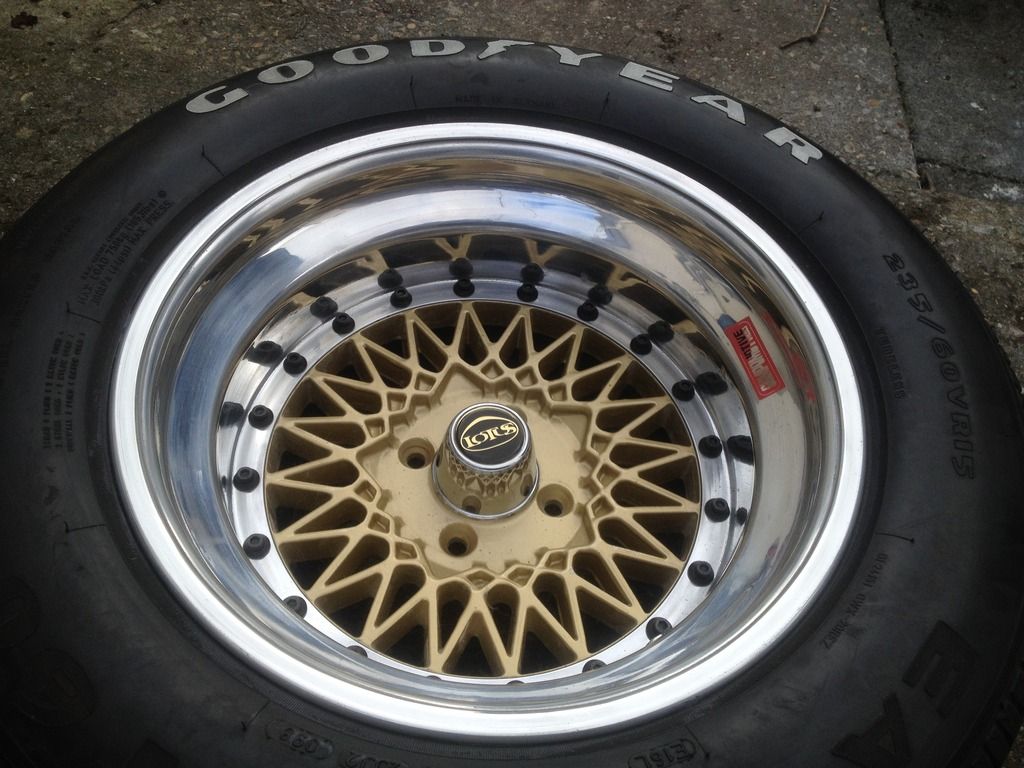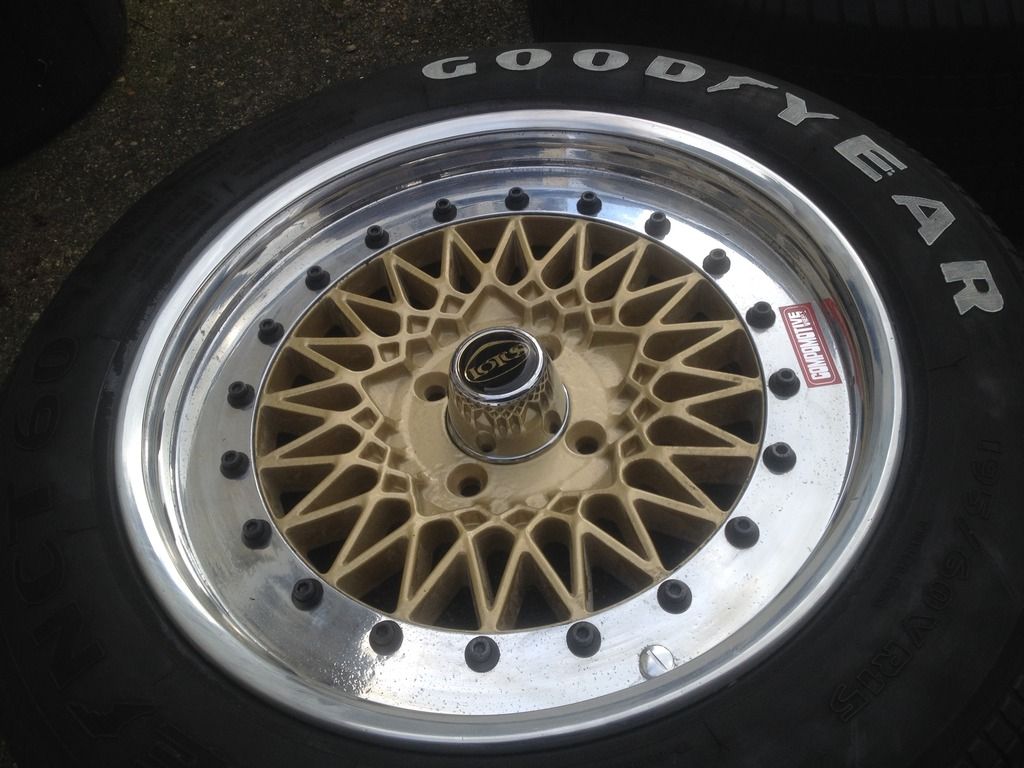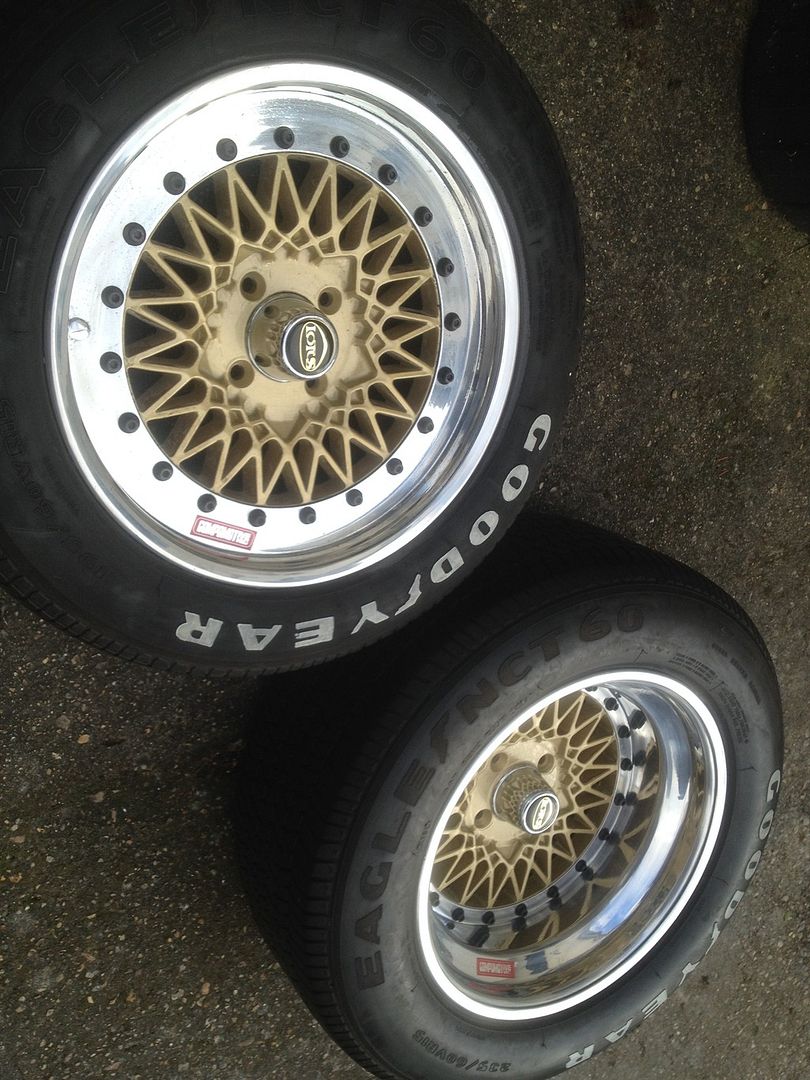 I hope the community find this thread interesting and informative, I welcome your comments and feedback. If you know the difference between a screwdriver and a spanner it's a reasonably simple task to perform yourself. Message me your questions, I'm always glad to help my fellow enthusiasts.